Stimulate Children's Desire To Explore The World
☞  
The Busy Box™ Satisfies the baby's Desire to Explore Life Widgets
. Reduce children's unfamiliarity with the surrounding environment and let them have the courage to explore the world around them.
☞  
Cool 7-in-1 Activity Cognitive Toy.
This wooden busy box is a mix of fingertip gyroscope, spring bolt, switch, wheel, screw cap, water tap, key/lock. Each gameplay is closely related to life, making kids learn basic skills and develop their cognitive skills while playing.
 ☞ Edutainment Concept. The Busy Box™ is designed according to the baby's cognitive needs and every accessory comes from life. The busy cube is not only a simple playing toy but a helper to improve and cultivate hand-eye coordination, imagination, and creativity.
☞ Attractive and Durable Intelligent Toy. Selected solid wood core which is playable and wear-resistant. Clear texture, round and polished without burrs.
☞ Best Montessori Toys for Toddlers - Perfect for Curious Kids who are busy hands and hyperactive, Also for Autistic! Really great for occupational therapy and learning. Keep them calmed and entertained. It is the best gift for your little beloved. 
Dynamic Display: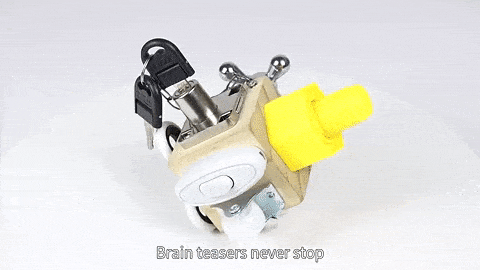 Main Material:
New Zealand Pine
Suitable Age:
1-6 years old
Weight:
0.35 k