✈️3 - 5 Days Guaranteed Delivery within the United States
IMPROVE YOUR CHILD'S IQ AND MAKE LEARNING FUN AND EASY WITHOUT ANY STRESS  
This interactive domino train isn't only an enjoyable toy your child can play with. It can also help engage your little engineer's brain.
Your child will be able to familiarize colors and count the number of blocks easily, helping them remember as they continue playing the game.
This domino train will keep your child coming back for more fun playing it! The more engaged your kid is while playing this, the more they can develop and sharpen their learning skills.

ENHANCE YOUR CHILD'S SPATIAL THINKING
While the train is driving, it releases a long formation of colorful dominoes!

Once domino placement is complete, you can add fun by letting your kid push the dominoes, and it will have a chain-like effect!
It also gives off construction-like sounds when playing, so your child can feel as if they're acting like real engineers. 
If you want to train your kid's imagination, this domino train is the perfect gift for them!
Easily help your child count numbers and recognize colors 

Enlighten creativity by building a unique domino trail

Make learning fun through this interactive game
MAKES THE PERFECT GIFT
Children 3 years old and above are the best fit to give this one-of-a-kind present. 
As adults, you only want what is good for the young children that make your life more lively! You want them to see their faces light up when they come to play this domino train with pure fun. 
You also love it if your gift can help improve your child's spatial thinking skills because it plays a crucial role in their later school success!
STEP BY STEP GUIDE ON HOW TO PLAY

Load the cartridge by pushing it down onto the dominoes

Attach the cartridge to the top of the train and switch the train on

Turn the train's funnel to steer left and right

As the train moves forward, standing dominoes will deposit in a row

Then, your child can push the dominoes to form a fun chain
KIDS DOMINO TRAIN BLOCK SET
Material: ABS Plastic, safe for use with young children
Size: 7cm x 16cm x 10cm
Domino Colors: 20 x Green; 20 x Blue; 20 x Orange
Inclusions: 1 Loading Cartridge; 1 Tree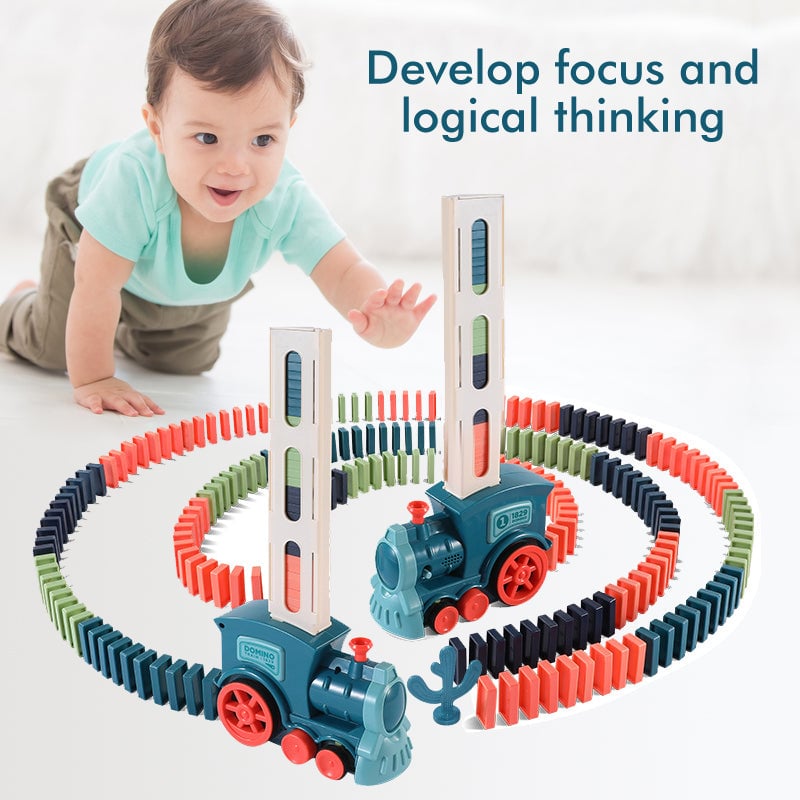 WHAT YOU'LL GET
- 60 PCS Domino
- Blue train with loading cartridge